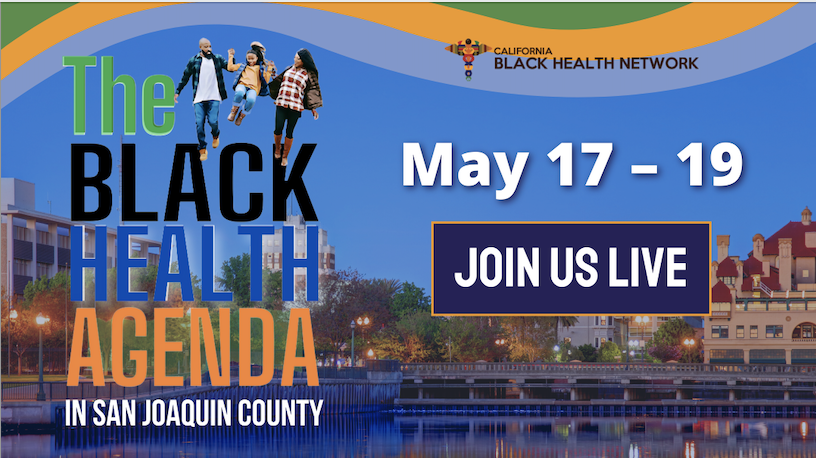 The Black Health Agenda
239
239 people viewed this event.
What: We invite you to attend the Black Health Agenda Collective Impact Meetings – the follow up to the February 2, 2022 Black Health Agenda Stakeholder Meeting and breakout sessions. These sessions will be a solutions-driven approach to address the health disparities specific to San Joaquin County discussed at the Black Health Agenda session in February. At the various sessions for the Collective Impact Meetings, we will identify solutions to resolve the issues, challenges, and barriers that were identified for Black Maternal Health, COVID-19, Social Determinants of Health (including environmental health, health policy, healthcare experience, and nutrition), Cancer, and Mental Health that have long plagued Black residents in SJC. Please come ready to collaborate, strategize, and formulate a plan to improve the health and well-being of the Black community in San Joaquin County.
Who Should Attend: Stakeholders who attended the February 2, 2022 event and breakout sessions and others from SJC who want to drive lasting change regarding the health and well-being of the Black community. Didn't attend the last event? No problem! You are welcome to join if you are a stakeholder or community member in San Joaquin County that's committed to the health of the Black community. Please invite colleagues, friends, and family in your network that specialize in any of the focus areas.
Why: We need your help and input to help devise a plan for San Joaquin County. Prep materials and the San Joaquin County State of Black Health Report will be sent prior to the event for your review. We want all stakeholders and community members who attend to come prepared with solid solutions to address health disparities and improve outcomes for the Black community in SJC
When: May 17 (Social Determinants), May 18 (Mental Health, COVID-19), May 19 (Maternal Health, Cancer) – 2 hours session span between these 3 days. You may attend all or any of the five sessions that align with your knowledge and passion.
Register Here:
(Click the name of session(s) you plan to attend)
Social Determinants of Health - May 17, 12-2p Mental Health - May 18, 9-11a COVID-19 - May 18, 12-2p Cancer - May 19, 9-11a Maternal Health - May 19, 12-2p
How to Stay Connected: Please join the SJC BHA Slack, a collaboration resource specifically for all you San Joaquinians! Slack is a way you can all stay connected, collaborate, and start forming action-driven solutions to disparities.