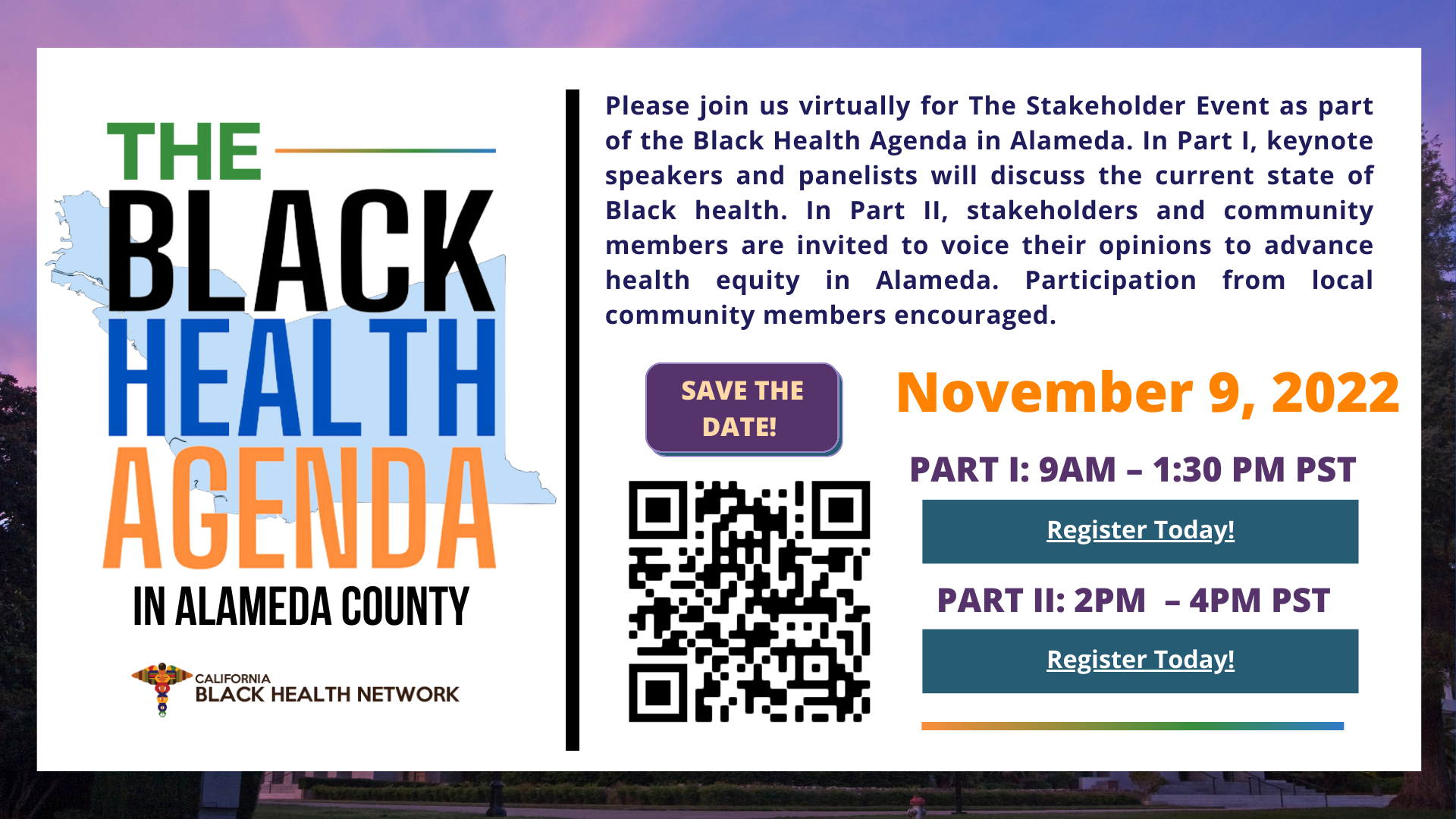 The Alameda Black Health Agenda
92
92 people viewed this event.
We at the California Black Health Network (CBHN) are extending a personal invitation to join us for the virtual Black Health Agenda session in Alameda on November 9. This is a special session for the Alameda community that is designed to tackle specific health disparities affecting the Black community. So, your input and voice as a key community stakeholder on the current state of Black health will be instrumental in the process of advancing health equity for Black Californians in Alameda and on a statewide basis. The event is separated into two parts:
PART I: The Stakeholder Meeting – 9:00a – 1:30p PST
Keynote speakers and panelists will discuss the state of Black Health in multiple focus areas that historically have high disparities including Maternal Health, COVID-19, and Mental Health. Experts and community members will discuss their experiences within these focus areas.
PART II: Breakout Discussions – 2:00 – 4:00p PST
During Part II, you and fellow stakeholders will have the opportunity to discuss your views and experiences within Alameda. These discussions are meant to form partnerships to take concrete action during our next event: The BHA Collective Impact Meetings. Please choose which open forum listening session you would like to join during registration.
The Black Health Agenda is a critical component of the Campaign for Black Health Equity, a three-year initiative that aims to close the gap in disparities and improve the life expectancy of African Americans and Black Immigrants in California. The Black Health Agenda process, when completed, will include a strategy and plan to address health disparities both in Alameda County and on a statewide basis to advance health equity and improve health outcomes for Black Californians. If you would like more information, please email Brittney Butler at bbutler@cablackhealthnetwork.org. Thank you and see you in November!